Quality in Construction: A Deep Dive Into The Tech Available To Better Manage Complex Construction Projects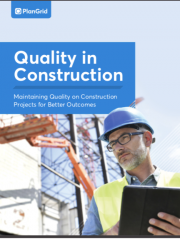 The development of advanced construction technology has created new opportunities for improving build quality, but construction firms must develop work practices that make the most of these tools. Fully addressing quality control can result in safer, more efficient, more profitable construction workflows.
In this ebook we will show you how to fully harness construction technology to achieve these goals.