The Top Five Ways To Relieve The Pain Of Managing Hybrid AD Environments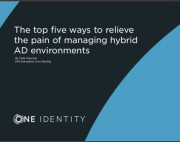 Active Directory is everywhere and Azure Active Directory (AAD), its rapidly growing, cloud-based cousin, is quickly gaining ground. But, you should know that AAD is not simply a cloud copy of an on-prem AD instance. It is a wholly separate environment. That's why you need to read this eBook.
In it, you'll learn about five potentially pain-inducing challenges you must overcome as you transition your organization to a hybrid AD implementation.
Get your own copy to read about how One Identity Active Roles can help you:
• Manage your entire hybrid environment with one solution
• Avoid common implementation mistakes
• Ensure your AD/AAD data is synched cleanly
• Elevate security protecting admin accounts
• Leverage workflow templates to accelerate deployment